Hello my friends. Well, where to begin…quite simply: the month-long tour is almost over. 😉 It's been an incredibly rewarding and fantastic time, meeting with customers, presenting to thousands, and sharing workflows, ideas, cross-media concepts and the like with the finest users from both sides of the Atlantic… The pleasure, as they say, has been all mine…:P
…but it's not over yet!
So, en route from NYC to Brussels to attend ACF, I decided to shoot a little video from the train. Unfortunately, well, I looked like total crap! (narcissist, remember?) I mean, I barely slept on the plane over here (a rarity for me; I slept somewhat, just not comfortably) and as such, I looked like a tractor-trailer had just run me over. Not that I haven't blogged in similarly tired, greasy states (lol)…but I was also experiencing some plane dementia (ie, just couldn't phrase my words properly!! lol! I'm serious) and as such, I decided to punt the video and just provide some stills. Is something seriously wrong with me…I'm cracking myself up right now. 🙂 LOL. Oh dear… disturbed, I tell you! 😉
Sitting in my 'usual' cabin on the train, traveling to Brussels. I just liked the colors, and there was some nice, natural lens blur happening on this shot too…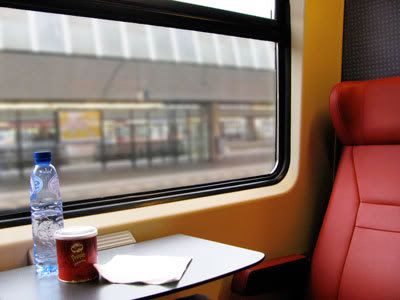 Once I arrived, I met up with Mr. Rewis, and we planned out the next few days worth of demos. As ACF is largely Audio & Video focused, this also allowed me to do some showcasing of Audition 3 (having *just* released last week!!) as well as showing off some of the coolest things it does (including Photoshop-paint-and-heal audio restoration! Always a crowd pleaser!) Someone even came up and gave me an audiofile which I promptly checked out, cleaned up, and charged 50euros for…KIDDING. But really, it was cool, and even cooler being able to apply the 'message and technique' on-the-fly, in front of someone, and really make some magic happen. Good stuff.
Anyway, it's always great to be in the Benelux region, for many reasons. First of all, the architecture in Brussels is simply breathtaking. You might remember some pics back in May from Ghent. Similar indeed, but Brussels really has this sense of 'grandeur'…and every time I'm here, I'm constantly reminded of how 'grandiose' it really is…(not to mention that there are preserved 'ruins' from the 13th century, encased in glass, right in the middle of the central square! too cool!) Now, sadly, we didn't get any time to actually photograph all the grandiose-ness of it all…so here's a pic from my window; it's still pretty…:)
I just love the architecture, and the buildings are just SO clean!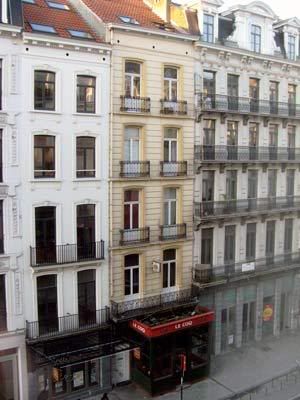 Now, aside from the beauty of this place, there's also THE FOOD. My goodness, I mean, if you're going to travel for weeks at a time, there's definitely a pay-off at the end, and true-to-form, that pay-off (in food) happened here.
Greg and I visited a fairly popular spot, again, in the centre of the main square..a place called Maxim's. He snapped a few pics with his camera of the food…I had this spinach and ricotta ravioli (which I'd had the last time I was in Brussels) and it was all I could think about since I arrived. And was it as good as it looked? Oh yeah, baby…
Ricotta-filled ravioli on sauteed spinach, dressed with basil, olive oil, and rosemary. OMG!


Greg & me @ Maxim's…he had the Guinea foul…it looked SO good.


Well, there you are, a brief look at how the tour is wrapping up. Again, it's been an absolute pleasure to be able to present to everyone, all over the globe, and a special thanks to all of our fellow Adobe colleagues from the Geos, all of the partners and freelancers who've lent a hand, and to FAME Music in Amsterdam, just because. 🙂
And with that, of course, a final pic from today, returning from the venue, hair down and feelin' fly…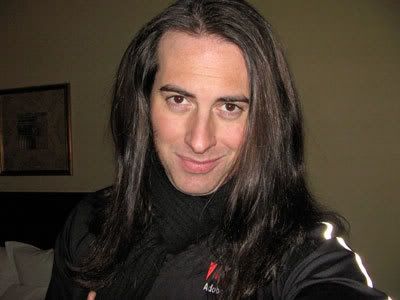 So my friends, this will probably be the last post of *this* tour, but stay tuned as I'll be reporting more once I'm back in the states. Still so much to do, with another trip to San Jose in the wings…Oh, and Thanksgiving too!
Until next time,
Blog On.