As I'm sitting here, Mike Downey is finishing his presentation to 70+ VIPs here in Oslo, Norway. Tonight's event, like the ones held in Helsinki, Copenhagen & Stockholm, is catering to 70 of the top Web Designers/Flash Developers and reps from their respective agencies, all in an effort to showcase new technology, existing cool stuff in Master Collection CS3, and talk about some *new* Adobe tools and technologies, like the Adobe Media Player and Adobe AIR. The crowd tonight has been intense, and the responses, once again, have just been stellar. Mike, Greg, Stef and I all found our strides tonight…and the audience was rolling! Loving it! Thank you, Oslo. It was our pleasure. 😉
But, of course, it's not over yet, and we've got our full seminar tomorrow. Expect another blog post either tomorrow night or over the weekend (including some pics from tonight's event, held at the Kongresscentre, here in downtown Oslo).
Earlier this morning, however, whilst sitting on the plane, I suddenly got the urge to record a little video (normally, I'm sleeping). So, here we are, mid-flight, en-route to Oslo taken around 11am…**

**note: planes are NOISY! I denoised and brought up my voice (which was already faint) but decided to subtitle this video, just for added accessibility (Stef will be proud!)
But back to yesterday's seminar in Helsinki: quite simply, another great success (with great Q&A from some of the 250+ attendees). Following it's completion, the nighttime found us walking around the city, visiting a familiar restaurant, and re-visiting a semi-familiar pub. 😉
First, to celebrate the 'almost end' of this tour, Greg, Stef, Mike and I, along with our colleagues Kenny (from Denmark) and Mikael (from Finland) went to the famous garlic restaurant…blogged about back in November. I can only say that the garlic-haze that followed (and, of which I was totally prepared this time around) was EVER SO GOOD, ONCE AGAIN! Damn, that place is awesome! I can't tell you enough, how good the food is. Escargot, Garlic Beer, Garlic Schnaps, Garlic Pork, and even Garlic Coffee (a new one; didn't have that last time). It just fricken' rocked. No other way to put it! And the garlic-haze has nearly dissipated…nearly. lol
Following the dinner, we decided to visit the Absolut Ice Bar. Now, Greg and I have been to the classic Absolut Ice Bar in Stockholm, (in fact, my current promo picture that is circulated for our events was taken there!) and we wanted to check out the one in Helsinki. It's a little smaller, but still icy, cold, and very groovy, with cool lighting, ice sculptures, ice tables, and smooth euro-trance playing in the background.
Seeing as we took a bunch of pics, I figured I'd just post them all…so here are some of the moments at the ice bar…
Kenny, Mike, Stef & Jase enter the cold!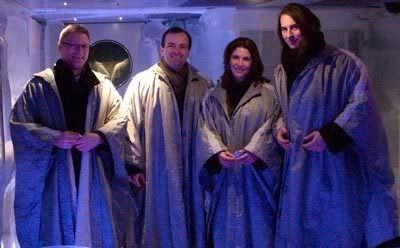 Absolut-ly Cool Backlighting (changing as Greg snapped the photo)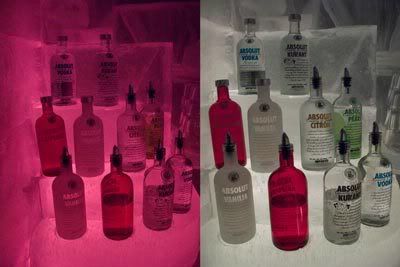 Absolut Evangelists On Ice (what *is* that face I'm making?)



Greg Re-enacts a scene from "Christmas Story" (but didn't get stuck!)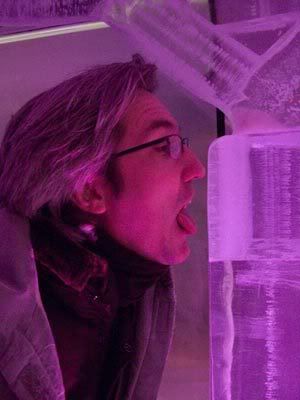 "They call me Hagrid; keeper of keys and grounds at Hogwarts"


The touring crew, 29Jan2008, Absolut Ice Bar, Helsinki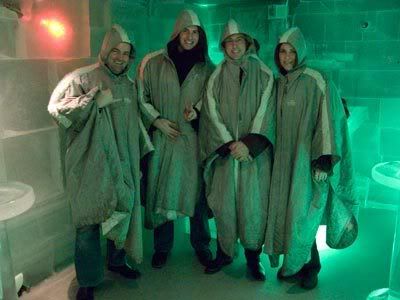 So there you have it, my friends. I must again take this opportunity to thank our colleagues from Finland, Denmark, Sweden and Norway, not to mention all of the fab people who came out to see us, both at the VIP events and at the seminars. Stay tuned for more over the weekend, as we're going to try and take (and post) more photos from tonight's 'performance' (and also, some possible 'video' of the event as well!)
Until next time…
Blog on.