Hello, my friends! Well, to say that I've been 'recovering' from NAB wouldn't really be accurate. In truth, things have gotten so busy with SO MANY other things (can't really discuss…he he he…secrecy) that I've barely had a moment to breathe…or blog. ;( So, in an effort to make up for lost time, I'm posting LOTS of great vids here…and a little late-night pic as well.
Red Shirt, Big Red Adobe DVD Case (I think I've had it since 2003!)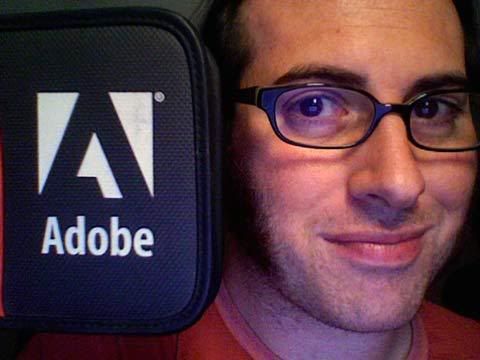 Yes, we've now posted a whole series of videos from different presentations conducted at NAB. The best way to check them out is to simply go to the Adobe TV Site (or, access AdobeTV through the Adobe Media Player). Either way, you'll see a whole bunch of videos from myself, Greg Rewis, Karl Miller and more.
So, here are a few 'selections' from the show…
Production Premium for After Effects Users (stay tuned to the end…and for those who were asking about "that Puppet Tool" video…check it HERE!!

Flash for Production Premium Users with Mr. Rewis

Here's an overview of Audition 3's new features (sadly, they didn't record the restoration demonstrations that I did on days 3 & 4

And there you have it. There's lots more to see from NAB, so be sure to check out the Adobe Presentations @ NAB on AdobeTV…NOW!
And before I end this blog post, I just wanted to let you know that Greg, Rufus & I are getting back on the road shortly, reprising our CS3 Master Collection tour. We'll be starting in Zurich (around the 29th, May), then onto Stuttgart, Berlin and ending in Graz, Austria (home of several of my dear friends, and the birthplace of Video2Brain)
We've also got a series of events in the Netherlands *prior* to hitting the road for the Master Collection Tour; and then…
…a month in Asia!! We'll be showcasing Master Collection Workflow in China, Hong Kong, Taiwan, Singapore, Malaysia and India (just to name a few!). Details will soon follow (along with dates and reg info) so stay tuned!!
So, until next time…
Blog on.