Hey there, my friends. Today marked the final day of the CS4 Nordic Launch Tour, and we truly went out with a bang! Another packed house in Copenhagen (followed by a capacity crowd yesterday, in Gothenburg) left us all feeling great, feeling like we've truly accomplished something, and feeling like we need some serious sleep!
This has been a whirlwind 2 weeks. But having seen over 5,000 people come out and spend their morning with us, one thing is clear: our users are the greatest people in the world; true visionaries, true artists, true knowledge-seekers, and true to the message of the entire suite: visiting us in an effort to find their shortcut to brilliant. 🙂
Now, since we often favour planes and trains as our travel method, occasionally we *do* hit the road 'old-school' and actually take a car. With our drive from Malmö to Göteborg, however, car isn't exactly what I would call this vehicle…
The 10-person van was so big, I couldn't even fit it into the frame!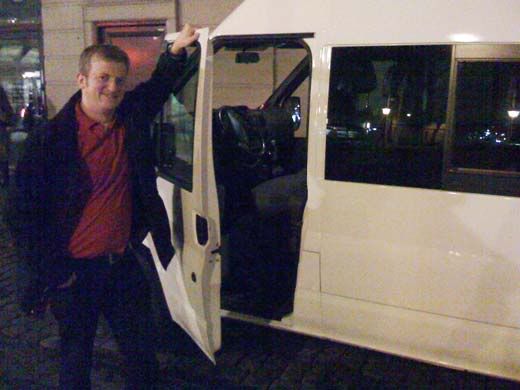 With Fredrik behind the wheel of this road-albatross, he braved the Swedish highways for us, and carted myself, Greg, Rufus and our event coordinator Anna all the way to Göteborg. In fact, he was *so* good at driving this massive transit van, I have wonder if prior to working for Adobe, Fredrik ever held a position as a roadie….for Iron Maiden or Deep Purple, perhaps? 😉 In any event, it was a good time had by all, we arrived at the hotel, did a simple dinner, and all promptly crashed (ie, slept) in anticipation of the following day's activities~which greeted us with another packed house, and another groovy crowd, ensuring that we left Sweden on a real high note….Tack!!
Capacity crowd in Göteborg


But this is merely the start for me, Greg & Rufus. With another packed week of seminars in the Netherlands and Belgium, the excitement is far from over…and the drive to spread the word of CS4 continues…
So, until next time…
Blog on.