Hello my friends. Having recently completed a series of college broadcast seminars (and, with NAB underway in a matter of days) the question of 'audio compression' ALWAYS comes up. People always ask, "Is MP3 *really* that bad?" or "Isn't iTunes' original AAC better than standard MP3″ and so on and so forth. Then of course, there are many who also contend that MP3, AAC(+) and the like are simply good enough because 'you're not losing that much anyway'… Uh huh. Yeah, I don't think so. 😉
So, in an effort to 'visually' demonstrate what you're NOT hearing when you compress (using a variety of popular formats), I decided to pick a few cuts from one of my more recent FAME outings in Amsterdam…

The subject in question…Coltrane, with Elvin Jones/Jimmy Cobb on drums, 1959/1960


Now, many may ask why I chose this particular record. Well, the benefits of well-recorded (and for that matter, remastered) Jazz albums is that you tend to have a lot of stuff going on in the 'high end'…and in this case, you've got some nice, present hi-hats and sizzle cymbals. Sizzle Cymbals are the ones that have the little rivets drilled into them. Used like a ride, they literally 'sizzle' as you strike them. This provides a really 'atmospheric' kind of sound, but also one that tends to resonate for a long, long time (and has a really nice decay). As such, it also occupies a lot of that high-frequency space.
So, let's take a look at what the upper register (approx 16k-22k) of this recording looks like UNCOMPRESSED. Sorry that these darned images are so small (limitations of my blog…anyone offering to help me 'pimp' my blog's CSS?? Greg is probably furious with me right now! lol) but if I get requests, I'll post larger frame size versions directly on my Photobucket page. Just comment me and let me know. This CD was ripped directly into Audition 3. We're looking at the Spectral Frequency Display in the Edit View, with 16k-22k zoomed in.
Coltrane Uncompressed, 16-bit Stereo, 44.1kHz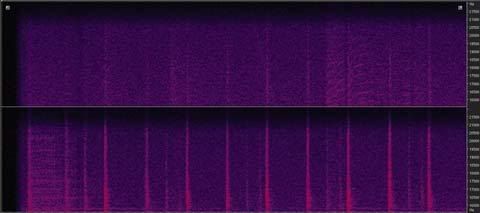 As you can see, there is a good deal info above 16,000Hz. And, more importantly, you can truly SEE how strong (and present) that foot-closed hi-hat is (on the right channel, ie, the bottom of the image; top of the image represents left channel). There's plenty of that sizzle-y 'atmosphere' as well, as represented by the reddish-purple color. It's not high-amplitude…but it's THERE…and it's that very presence that gives the recording it's ambience (an essential factor for good jazz recordings from this era).
So, now that you know what you'll get from CD, let's now take a look at the NEW 256Kbps AAC that you can get from iTunes (these are the newer iTunes Plus files– you can also rip directly into this format via iTunes).
AAC 256kbps, iTunes Plus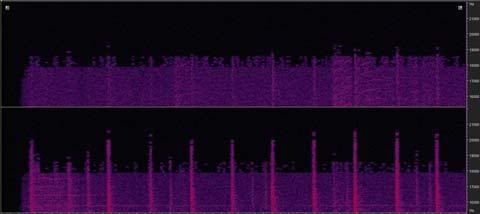 Now, this is pretty difficult to see in these images, but what you've got is audio information that actually extends *nearly* to 19k on the average (best viewed on the left channel) with transient material (the initial attacks of the hi-hat) extended to approximately 20k (on the right channel). This, I must say, is pretty darn good, and for most ears you probably won't be missing much. Granted, this is *not* lossless…and speaking as a mastering engineer, I can tell you that in certain passages, you do get some weird artifacting and aliasing (largely because of those difficult sizzle cymbals; you are, after all, sacrificing sizzle and ambience for smaller file sizes)…but on the whole, it's a pretty sweet type of compression. As mentioned, I *only* started buying iTunes albums when iTunes Plus became available (and you'll see why in just a moment). Still, it's NOT replacing CDs for me
So, I'll give AAC 256 a B+/A- grade. Let's see the popular MP3 format…
MP3 @ 192Kbps (slightly higher than most internet audio encodes)


Now, here's the deal with everything above 128Kbps in MP3. You basically get a flat-top, razor-edge at 16k…*but*, above 128 you *do* get transient materials that extend nearly up to 20.5KHz. So what does that mean? Well, it means that your ears hear the initial 'attack' of the hi-hat (in it's hi-end glory) but any decay of said instrument is truncated, and all the high ambience is compressed away. What you will also notice (if you listen carefully, with phones, assuming no hearing loss or damage) is that you *will* begin to hear some swishy, phasey-type sounds in the high register, again, all because of the compression. I used to use 192 for reference files (back when broadband was still a luxury)…but now, I *never* use anything less than 224, and generally I'll do 256Kbps if I'm sending someone an MP3.
But…the *best* (not) is yet to come. Again, I know so many people who've ripped and done away with their CD collections…and they ripped everything into the the native AAC format in iTunes. Well, check it out…
Old-school..AAC 128 (standard iTunes downloads)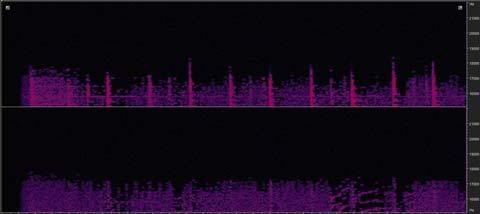 Sad, sad times, eh? What do you get? Well, for one thing, you'll notice (aside from the channels inadvertently being swapped when I ripped this! Bizarre) that now you have your 'ambience' resonating no higher than approximately 17k, with your transient attacks only extending to around 18.1k. Period. Nothing above that. WHA?? I mean, come on people!! You will also hear (very clearly) lots of swishy/swirleys in the upper register…but that's only half of the devastation of 128 AAC. ;( In short, if you've ripped your library in this format, you've thrown away more than just the sizzley-hissy high end. You've also lost a great deal of the 'meat' in the middle (the mid frequencies, where the primary fundamentals of everything live)… I'm crying tears right now!

So, here's a brief look, side-by-side (or, top to bottom, I suppose) of what 0-18Khz looks like. Most importantly, take note of the middle of the file…you'll notice how in the 256k version, it still looks fairly 'solid'; same for the 192K MP3. But our friend AAC 128…Oy! Quel naufrage!
256Kbps AAC (Plus) (0-18kHz)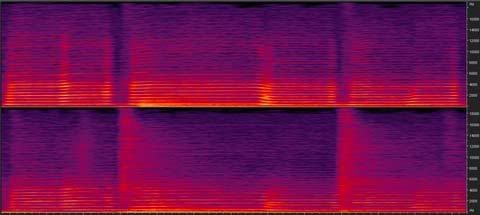 192Kbps MP3 (0-18kHz)


128Kbps AAC Original (0-18kHz)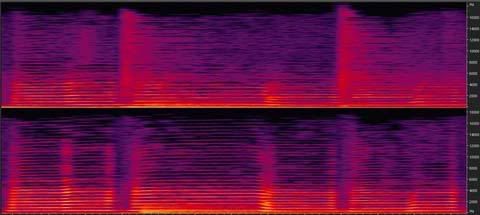 For these, here are some direct links in 1024 so you can *really* see what's going on here…
256Kbps AAC (Plus)
128Kbps AAC (Original)
So there you have it, my friends. Just look at that 128 version. Not only did you sacrifice a great deal in the high-end, but you've thrown away an ENORMOUS amount of sonic info in the middle…all in an effort to shrink it down.
Well, that might work for some…but not for me. It truly PAINS my ears to hear these encodes (digital satellite radio has a problem with low bitrate as well, but that's for another time). But frankly, it's not really about what I *think*…it's the mere fact that these different compression schemes all affect your audio files differently; and if you want something as close to CD as possible, and *don't* want to go the uncompressed route, there *are* options…and good sounding ones at that. And, if you have to compress (and generally, we do) now you know what to listen and look out for.
Whoa…this could be my longest blog post ever. Hope you enjoyed the technically nerdy audio info. Audio Engineer Geeks Unite! We are *not* alone…at least, I hope not. 😉
Until next time, my compression-curious colleagues (nice alliteration there)…
Blog on.